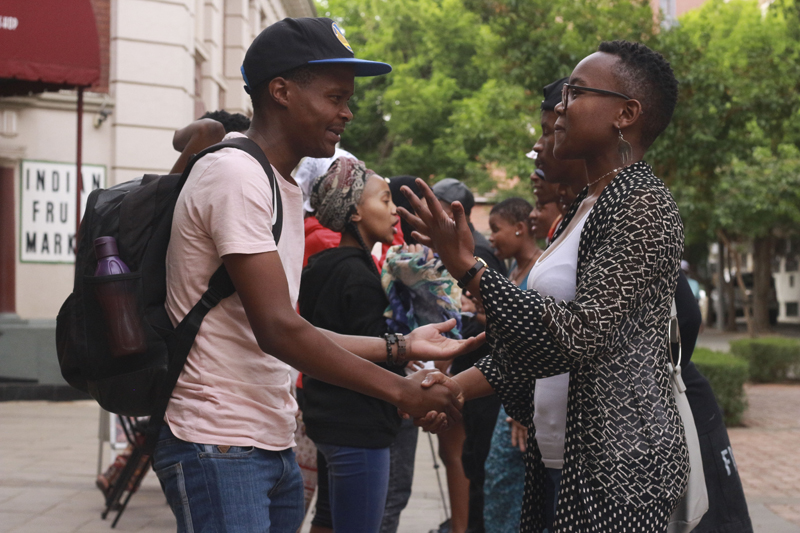 ---
Performance workshop at The Market Theatre Laboratory, Johannesburg, South Africa (October 2018)
Photo: Remofiloe 'Fifi' Sebobe
Final presentation by artists/students: Chris Djuma, Dintshitile Mashile, Kamogelo Walaza, Khanya Zibaya, Khanyisile Malatsi, Khethukuthula Jele, Lefa Jack, Mamello Maphate, Mandisa Mgeyi, Miriam Mayet, Mbali Ndebele, Mosehlana Mamaregana, Mpho Khoabane, Ndumiso Mazibuko, Sicelo Buthelezi, Violet Moeng
Tsuchimoto led a one-week performance art workshop for students at the Market Theatre Laboratory in Johannesburg. The workshop approached the subject of emotion/participation in both the analysis of performativity and the practice of audience engagement. The students explored the structure of social interaction and conversation and learn how to apply their findings to artistic practices. They also carried out collective actions researching collaborative/antagonistic engagement in the public realm and obtained critical tools to investigate regimes of normative control over the emotions, identities, and behaviors present in contemporary society.
Every day the workshop started at 9:00 with a warm-up exercise and ended at 16:00 with a group reflection. During the workshop, the students experimented with several formats of conversation: dialogue, discourse, debate, diatribe, etc and analyzed different styles, purposes, and outcomes. They also explored different ways of using eye contact and body posture in conversations. As well as how to converse, they practiced how to listen to speakers and portrayed their oral stories through performances. From the second day, the students went outside to investigate in the neighborhood, the Market Theatre Precinct, by observing the surroundings and interviewing local people. Through collective performative actions, they tried to figure out how affirmative and negative emotions can be affected in public space. They also reflected upon different ways of audience participation, for example, voluntary-, non-voluntary-, involuntary- participation and normal-, directed-, creative-, collaborative- participation. After several social experiments, they talked a lot about social engagement through performances from ethical perspectives: how and how much artists can intervene in people's lives with acting. For the last two days, the student brought up some provocative topics such as gender and sex and discussed them earnestly. They went through different levels of understanding each other's points of view, from talking "nice" to generative dialogue.
On the last day of the workshop, the students made public performances for two hours. For this final presentation, they decided to work as individuals or groups. One group made a circle with chairs in front of the Market Theatre and discussed mental health problems in South Africa. Unexpectedly and gladly, many people joined in the circle and kept the conversation for 1.5 hours. Another group simply invited people to "play", such as jump rope, football, and hopscotch and created a positive atmosphere in the place. The third group approached people as a fake Youtube channel crew and interviewed them with challenging questions. Contrary to their expectation that people might feel uncomfortable for the questions, many people were very open to answering and willing to contribute their opinions, which was meaningful for the local community. While the three group performances were carried out, four individuals made both visible/invisible performances, acting as a local "hobo", asking people to take photos with funny poses, carrying too many bags, having intimate conversations with strangers, etc. Gradually, the groups and the individuals united together by doing speed dating performance. In the end, two female students made a creative open discussion about gender roles in society by reading and translating a provocative manifesto by an American feminist Valerie Solanas.